Many thanks to Sandy of IndigoKittyKnits for agreeing be a guest blogger here at Purple Lamb. She's talking about knitting with handspun yarn and has lots of great ideas to share.
Here's Sandy:
I'd like to thank Carla for very kindly inviting me to write a guest post on her blog.
She asked me to discuss knitting with handspun yarns.
We knitters love them, don't we?
There are so many gorgeous kinds to choose from or spin yourself.
Have you ever looked at a beautiful handspun and wondered how to use it?
Or knit up a project and been disappointed with the result?
It's maddening to start with a beautiful and perhaps expensive hand spun yarn and end up with something that looks terrible.
The most important factor in working with handspun yarn is pattern choice.
The right pattern will show off the yarn. Choose the wrong one, and your finished product may look like a dishcloth.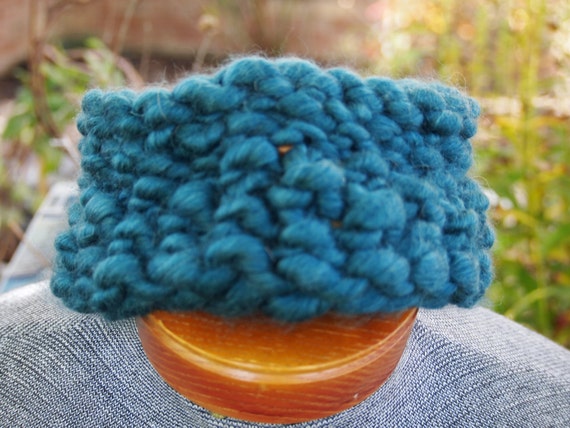 Handspun and Hand Knit Headband from Indigo Kitty Knits
In a project using handspun, the yarn is the star.
The perfect pattern lets it shine.
Chose the simplest pattern you can find.
Think garter stich, seed stitch and drop stitch to let the yarn take center stage.
Single Ply Yarns/Art Yarns
Your first yarns will probably be fairly lumpy – those pretty thick and thin types.
Smooth bulky and super bulky single ply yarns are included in this group too. I am absolutely in love with these. They show the colors in big glorious chunks and are very eye catching.
They knit up quickly, and we all love instant gratification.
The most important thing with these is to make something that will not get much wear or rubbing.
They will pill or even break if they get too much contact because they are not very strong yarns.
They are best in small projects like headbands or small cowls.
Be sure to experiment with needle size. These look their best on bigger needles!
Here is a nice headband pattern for handspun:
You can hold these yarns with another lightweight yarn to increase their strength without having to ply them.
Try a fingering weight yarn for strength without a lot of bulk.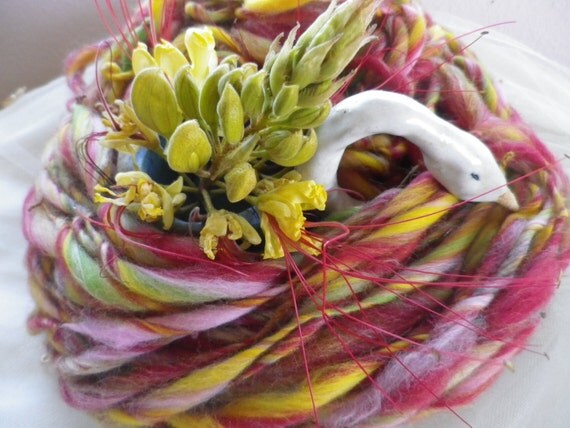 An Example of a Single-Ply Thick and Thin Handspun Yarn from Purple Lamb
Plied Yarns
These are a lot more versatile.
They can take much more wear, and are great for things like fingerless mitts and scarves.
If you have enough you can even use them for a large project like a sweater.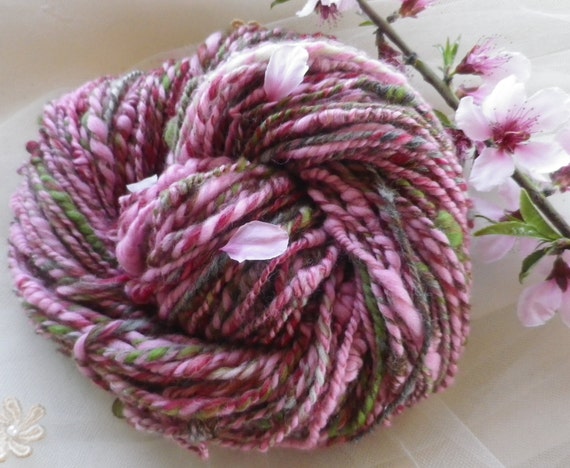 Peach Blossom: An Example of a Two-Ply Yarn from Purple Lamb
Color
Color is a critical factor.
You may have a barber pole, a gradient or a tonal yarn, or even a solid color yarn.
Barber pole yarns are so much fun.
You can knit them on their own or hold them with another yarn.
Try a contrasting yarn to make them really sing or pick a color you want to emphasize and make the second yarn the same or a coordinating color.
Gradient yarns are harder to find and spin – they take a lot of fiber prep, but if you have one look for a shawl or scarf pattern that will emphasize the color progression.
Hats that gradually change color as they move to the top of the head are gorgeous.
Mitts done in gradient yarns are striking, and I like them to coordinate rather than match.
For example, make the color change go the opposite ways on each hand.
Here is a quick and easy mitt pattern perfect for bulky plied handspun yarns.
If you don't have a bulky yarn, hold your handspun together with itself or another yarn.
One-color and tonal yarns are the most versatile. You can do just about anything with them.If you have a yarn that you are simply not in love with, don't throw it out.
Try holding it with another yarn, or more than one.
A second yarn can smooth out color effects that you don't love, hide uneven
textures, or enhance certain colors you want to emphasize.
To get an idea of how it will look, simply twist the two yarns together.
If you like the look, knit a small sample or begin the project.
You can always rip it out if you don't like it.
Black, white, gray and brown can be good choices for this second yarn.
Try using a related color, like purple with a pink hand spun yarn.
I'm a big believer in holding handspun with other yarns.
I often split a skein of handspun in two and hold the two yarns together to get a thicker yarn.
It's easier for me to bulk up a yarn to suit a pattern than to do the math to change the pattern.
I also often hold two commercial yarns together, it adds interest with plain yarns and I hate doing boring math to make patterns work, when I can just pick up another pretty ball of yarn!
You can see lots of examples of these projects in my Etsy shop.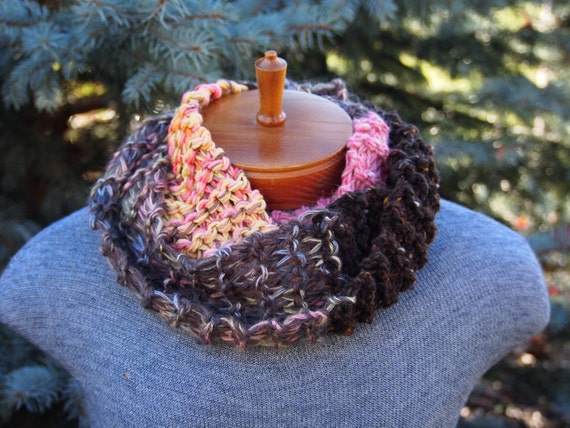 An example of a gorgeous cowl made with multiple yarns from Indigo Kitty Knits
Leftovers
There are almost always leftovers aren't there?
There are lots of ways they can be used.
They can be combined with other yarns (handspun or not) in a striped project.
Use coordinated colors to keep things from getting too crazy, or go wild!
I prefer wild myself.
A cowl knit sideways and finished with a 3 needle bind off is a great idea for these yarns.
Vertical stripes are always flattering!
Another idea is to ply them or simply hold them together with another yarn (or two) to bulk them up and make them go farther.
You can use commercial or hand dyed yarn, or another handspun yarn.
Keep these projects small so you'll have plenty of yarn. You can use them to tie on gift tags or care labels.
Wrap gifts with them.
Try wrapping a gift for a woman in a pretty dish towel
and tie it all together with some handspun yarn.
It's very eye catching!
I hope you've got a few new ideas about using handspun after reading this post.
I'd love to hear about other ways you knit handspun or use up leftover bits.
***********************************************
Sandy Kemp is a fiber artist living in the Midwest with three daughters, one husband and a large clowder of cats.
Find her on Ravelry as IndigoKittyKnits.